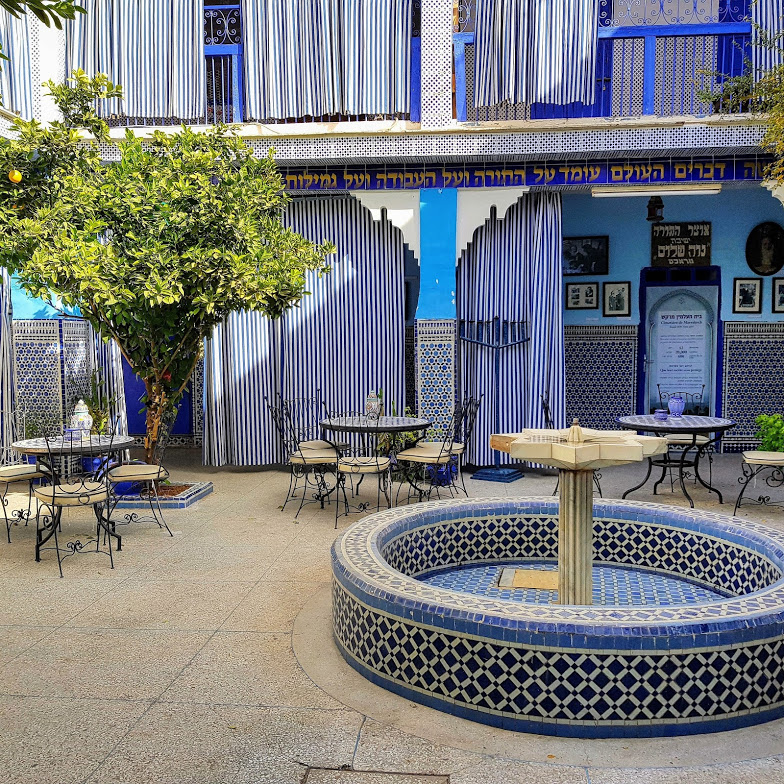 The courtyard at Al-Azma Synagogue in Marrakech. From Cultures-j.com.
Our last day in Marrakech was a Saturday. I was sad to not get a chance to visit the Al-Azma Synagogue during regular weekday visiting times, when we might be able to take photos of that beautiful space. But I did go for Saturday morning services. It's a completely non-descript building from the outside, as might be expected. Even the door is completely plain and unmarked. Still, there are several signs clearly posted leading the way and marking the entrance, and everyone in the neighborhood knows about it, so it's not like they're exactly hiding. Once I got inside, a security guard simply asked if I was Jewish, and if I was coming to pray or just to visit. More security than synagogues I've visited in the US (which in my limited experience rarely have any sort of questioning or checking at the entrance at all), but certainly less than we saw in Istanbul, Athens, Thessaloniki, Tokyo, or London. Once inside, the place opens up into a small courtyard which is gorgeously decorated in bright blue and white tile, a Jewish version of a typical Islamic/Arabic aesthetic. And then, from there, to one side of the courtyard is the main worship room, which in the US we might typically call the sanctuary.
The sanctuary of Al-Azma Synagogue in Marrakech, in a photo from a Jerusalem Post article.
Unlike the (Protestant-influenced?) rows and rows of forward-facing parallel pews that I feel are quite standard in the US and certain other places, but quite similarly to what I've seen in photos and in person in Europe, Israel, and elsewhere, the sanctuary is organized to face no particular direction, really. The ark is at one end, but the bimah (raised platform from which the Torah is read, and certain other ritual acts are performed), ringed in a wooden bannister, is at the other end. And the seats are organized all facing perpendicularly, so people are facing to the sides of the room and not towards either end. As in many Orthodox services I've attended, there didn't seem to be any one prayer leader, and everyone just seemed to take turns, in no particular order, each being the dominant voice in chanting (or mumbling) a particular section. No one announced page numbers or which section we were moving on to – they all just kept moving, mumbling through the prayers more than really singing or even chanting them, leaving me rather in the dark as to where we were up to. Every time I thought I'd figured out where we were, the very next section they recited would be several pages ahead, or back, and I'd lose my place all over again. I couldn't really detect any particular melodies, or anything; had my gf been there, she might have been able to recognize or identify something of significance, with her far better musical ear, and more extensive knowledge of Sephardic & Mizrahi traditions. But for me, while it certainly didn't have the feel, the sound, of the world of Yiddishkeit, it also didn't "smell" strongly to me of Arabic pronunciation or melodies, let alone anything related to Spanish or Ladino sounds. I don't know.
I had planned to stay through services and maybe get to talk to some people after that, maybe learn a little bit more about the community and what style of traditions they follow. But I had forgotten just how boring and frustrating it is to attend a service like this one, where no one helps you know where they're up to, and where it only feels familiar in the briefest of snatches of moments before you're lost all over again. Even if I know the words to one section, I can't follow along well enough (quickly enough) to really participate at all before they've already moved on and I'm lost again; and they're certainly not singing the same melodies I'm familiar with, so I'm not getting out of the experience what I normally would. So, long story short, I left after about 45 minutes. Still, I'm really glad I went.
After reconnecting with my girlfriend, we ended up being led into a shop selling rugs, and got talked at for far too long… As I've ranted about in previous posts, I really hate the way people don't let you leave, just talking and talking to you, making you feel rude to leave, making it so the only way you can leave is to be rude. The conversation went on unnecessarily long, as he continually showed us more and more rugs, and refused to tell us prices, even as we struggled to narrow it down to just one or two rugs, negotiate a price, and be done with it. … In the end, though, I came away with two small rugs for which I think (I hope) I got a good price. The fellow says they're all made by a special organization or group of widows, providing work and income to women who have lost their husbands (and thus their chief means of monetary support). He told us some were made of cotton, some of wool, some from all-natural dyes, all by hand, all in authentic tribal or ethnic styles, each rug one-of-a-kind… But, who knows if any of this was true. Maybe we got scammed. Who the hell knows.
Above: Not the rug place. Just a pretty side street.
Left: The courtyard at the Musee Mouassine.
I then made my way to the Mouassine Museum while she went off to do other things. It was our last day in Marrakech, and especially with so many things being closed for Eid the previous day, this was our (my) last chance to try to see any of the museums or palaces in the city. The Orientalist Museum sounded great – would have been really interesting to see their collection of Orientalist paintings, and various other objects from across periods, styles, etc., but sadly they were closed all throughout Eid, so there was no chance to see that museum at all. The Mouassine Museum, I really could have sworn that the website said it offered a similarly diverse array of artworks and objects representative of a breadth of Moroccan history and culture. But as it turns out, it's almost entirely all about the art of this one artist Abdelay Mellakh who was born in that house and lived and worked (painted) there for many years. Modern art. Interesting in its own small way, to be sure, and I may even mention him if I ever teach a survey of world art history or something. And a beautiful house, a beautiful space itself. But, not nearly the representative sort of art museum I was hoping for. … So, I saw that, and then made my way to the Palais Badii (a ruined 16th-17th c palace) and Palais Bahia (a less ruined 19th c. palace), both of which were already closed for the day. So, that was that. On the plus side, found some other different market streets on my way back, including the Rahba Kedima et Souks, a nice small open market square with just a slightly different energy from the other streets.
We then set out for the Kasbah – another section of the city outside of the medina, which offers much the same experiences (the same types of shops and cafés), but just different ones. In particular, we were looking for the Marrakech location of Café Clock, the hip café we had so enjoyed in Fes. Sadly, they turned out to be closed for Eid as well. But, we found some random guy who was apparently a big musician back in the day, with a little shop (don't know if he was selling anything at all?) or just front room filled with his own personal musical instruments, photos of him performing, and so forth. He and my gf talked for a long time about music, and they each played a little, and it was just fun. Sadly, I did not catch his name. Who knows, maybe if we knew his name, maybe he really is someone seriously famous – maybe my gf might even have records or CDs of him. I dunno.
On the way back to the riad, we passed by the Moulay el Yazid Mosque, another very major mosque of the city, so that was nice, to get pictures of it and just to see that particular other corner of the city. And then, after dinner, that was about it. Got up early the next morning to go to Essaouira.