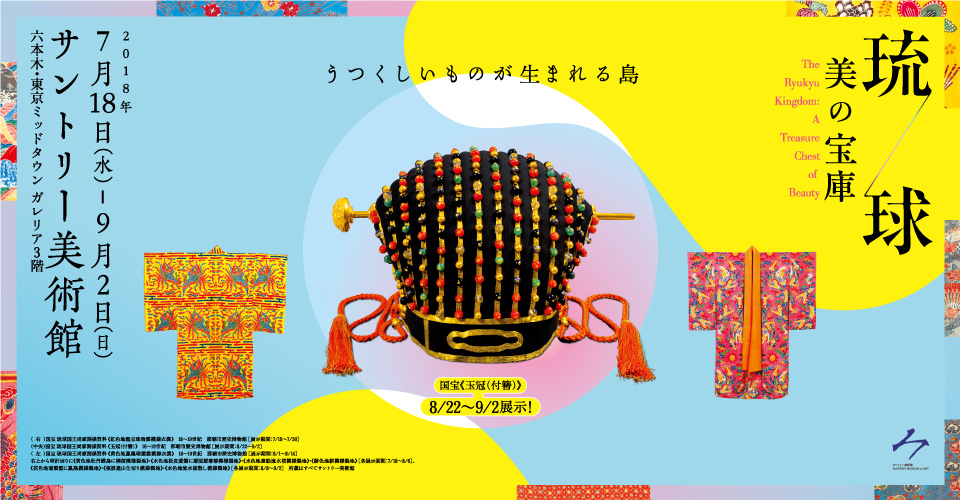 Falling farther and farther behind on blog posts. Still only up to events of July, and so much has happened since then! But bear with me, please.
I know it's a little crazy, but I actually went straight from Fukuoka all the way back to Tokyo, in order to catch a few meetings, and then head back the other direction (west). Ultimately, I skipped Hiroshima and Okayama, as I wasn't sure what conditions were like given the then-recent flooding disaster. But, as I'll touch upon in future posts, I managed a crazy whirlwind set of visits to Kobe, Himeji, Ise, and Futagawa (Toyohashi) before settling in Kyoto for my last week. We'll get to that. But in the meantime, while I've already posted about my feelings on going back to Tokyo, here's a separate post on the exhibit "The Ryukyu Kingdom: A Treasure Chest of Beauty" (琉球:美の宝庫) held at the Suntory Museum of Art in Tokyo this summer.
It was truly wonderful to see such an extensive Ryukyu exhibit. Not just "decorative arts" – textiles and lacquerwares – but paintings as well. With label text highlighting "the superb artistic and technical mastery of the kingdom's painters," the fact that so much was lost in the war so we can't know the full extent or "a full portrait of Ryukyuan achievements." And, further, highlighting that the royal court had "a particularly deep connection with the Fuzhou art world," and an extensive collection of Chinese and Japanese works. We can only imagine, if the war hadn't happened, if none of this had been destroyed, how much more brilliant, more cultured, more "deep" for lack of a better word, Ryukyu would seem.
And I do love that they've brought some of the greatest treasures of Ryukyuan painting here. A cat by Yamaguchi Sōki; pheasants in the snow by Zamami Yōshō. Paintings of officials from the TNM, and of Gi Gakugen and Tei Junsoku from the Okinawa Prefectural Museum. The Naha Port screens from Kyoto and Shiga Universities. Good thing I didn't try to see any of these works at their home insititutions – they were on loan, here in Tokyo.
But, as wonderful as it is to see these treasures, I'm perhaps even more pleased to see additional works, like a painting of Li Bai viewing a waterfall, attributed to Gusukuma Seihô. Most of what once existed has been lost, but what survives goes beyond just a few famous paintings of cats, pheasants, and mythical beasts. Ryukyuan painting, like Chinese or Japanese, has a whole range, and that's what we're getting a tiny taste of here.
I'm excited to be learning the names of a few additional Ryukyuan painters. It's not all Zamami Yôshô, Gusukuma Seihô, and Yamaguchi Sôki. There's a very nice trees in snow landscape by Yakena Seiga which reminds me a bit of Sesshû or the like. Several pieces by Izumikawa Kan'ei 泉川寛英(Shin Shikyū 慎思丸)1767-1844, a painter for the Keezui bujôju, whose son Izumikawa Kandō 泉川寛道(慎克熈 Shin Kokki)b. 1800, painted the famous painting of a young official and his consort which graces the cover of the Ryukyu Kaiga catalog.
「琉球進貢船図屏風」(Ryukyu Tribute Ship Folding Screen), Kyoto University Museum.
It was exciting, too, to see the two most famous folding screen paintings of Naha Port, which I had previously only seen digitally, or in catalogs. One is held by the Kyoto University Museum, and the other by Shiga University in Hikone. Being so scattered, I had never had the chance to see them in person before. As a result, I don't know that I had ever realized, but the Shiga screen is much larger and brighter than the Kyoto one. Both are great, but the Shiga one feels more iconic to me. Seeing them in person now, I realized it's the one I remember much better, making the Kyoto one feel off, like a bad imitation, though of course it is not – it's a fantastic original artwork unto itself. The Shiga screen stands tall, like it was meant to be put on the floor, while the Kyoto screen seems to be the height for being put up on a platform, like in a tokonoma perhaps. Interestingly, the composition is quite similar in both – how the returning tribute ship is placed relative to the haarisen (dragon boats), for example, and how the bay and other parts of town are arranged.
Another work on display that's very cool to see is the Chinese basis for the famous pheasant painting by Okinawan painter Zamami Yôshô. I hadn't realized there were these two, but I guess it makes sense. It's great that the Churashima Foundation (which operates Shuri castle) owns this Chinese painting, so that it can be displayed comparatively with the Ryukyuan version.
A handscroll by Sun Yi 孫億 of birds and flowers was just gorgeous. A brightly colored piece in reds and blues and greens against an oddly bright yet not actually gold-foiled silk ground…
琉球来聘使登営図 (detail). Handscroll by Bun'yû, Tokyo National Museum. 1843.
And how about that, just my luck, the TNM procession scroll I wanted to see was here too. Now if only they had allowed photos, I could have gotten what I didn't (couldn't) get from making an appointment at TNM. Well, for part of the painting anyway. In any case – the scroll is beautiful, very well done with bright colors and careful details. But since we know it's by Bun'yû 文囿、a student of Tani Bunchô, and not by any official Shogunate painter, I wonder if we can explain away the oddities as simply incorrect. The section of the scroll opened and visible begins with the two placard holders, then six muchi bearers (instead of just two; these were red-lacquered staffs used to part the crowds to make way for the procession). After one mounted figure in Ming style costume, we see one chingu 金鼓 banner and one tiger banner paired up with one another, then a few musicians, then the Prince's sedan chair, followed rather than preceded by the royal parasol (ryansan). I do wish I could look at the whole thing.
A procession scroll from the Kyushu National Museum (Kyûhaku) was on display too, making me feel better about not trying to request objects there – this one would not have been available anyway. We see Prince Tomigusuku, head of the 1832 mission, surrounded by figures identified as 中小姓 ("middle[-ranking] page"), and by other names and titles. This may be the only scroll depicting the 1832 mission. They also had Kyûhaku's copy of Sugitani Yukinao's Zagaku scroll. This is a gorgeous, full-color, scroll painted by Kumamoto domain court painter Sugitani Yukinao depicting Ryukyuan Chinese-style musical performances at the Satsuma mansion in Edo in 1832. One version is now held by the Eisei Bunko, the collection of the Hosokawa family (descendants of the lords of Kumamoto), one of the more difficult samurai family collections to get into. But, apparently, Kyûhaku and Shuri castle own copies of it, each of which are slightly different. This one has gold leaf, but the colors are much more muted, thinner. How many copies of this painting are there?
"Evening Glow at Jungai," by Hokusai, 1832, and the image he based it on, from an 1831 Japanese reprinting of the 1757 Chinese book Liuqiu guo zhilue.
And, finally, they had on display half of the eight prints of Hokusai's "Eight Views of Ryukyu," displayed alongside copies of the Ryûkyû koku shiryaku (C: Liuqiu guo zhilue) on which he based the images. Very nice. I know that so many of these names and references to particular works won't mean much to the majority of readers, and for that I apologize. I am so far behind on blog posts, I'm afraid I'm just not taking the bother to really properly rewrite these personal notes on the exhibit into a more proper (audience-friendly) blog post. But, suffice it to say, I suppose, that just about every one of the most famous works related to Ryukyuan art were on display in this exhibition. A real marvel to see, and something I would dream of replicating if/when I might ever have the kind of curatorial position that might allow me to propose such a thing.
Moving down to the next level, they had more of the most famous treasures on display, including a pink bingata robe with dragons (National Treasure) that I saw a replica of at Shuri castle just the week before, and a white one with pink, blue, purple streaks, also very famous. A set of incredible royal serving dishes which I've seen many times before in catalogs but which is all the more impressive in person, for it's size and bright red and gold colors, with the royal mitsudomoe crest.
A replica of the royal crown – they later showed the real one for a few weeks in August – similarly shines. Somehow I never thought of it as being quite so bright and colorful. But I suppose when it's lit up properly – unlike the dim lighting at Shuri castle – that gives it the opportunity to do so. How impressive this must have looked on the king's head, with the Okinawan sun reflecting off of the gold and jewels.
Next, a somewhat restrained lacquer dish that I think I like especially. No gold, no mother-of-pearl, just matte red and black, with a simple design of the mitsudomoe in the center. Apparently this was used in the ūchibaru (the women's quarters of Shuri palace), for less ceremonial, more regular occasions. I wonder if the rest of the palace used similar designs, or if those for the women were especially restrained.
A 2014 recreation of the ogoe of King Shô Iku is a great inclusion. All of the official royal portraits were lost in 1945, though we are fortunate to at least have b&w photos. It's hard to say just how accurate this painting might be to the brightness or boldness or coloration of the originals, but if all you can do is a replica, I like this better than nothing, for showing the brilliance and power and so forth of Ryukyu. And that it's not all decorative arts and folk culture, but that it was a full culture, a full kingdom, just like Japan or Korea or anywhere else. Can you imagine if Western bookstores put all the Japan stuff under "folk culture" instead of under History and Art? I'm pretty sure they used to. If China and Korea aren't under such categories, whether in the bookstores or in how they're displayed in museums, why should Okinawa (or Hawaii, or anywhere else) be?
The next X number of objects were all lacquerwares of course, because what's a Ryukyu exhibit that isn't disproportionately filled with lacquerwares and textiles. But here was something new and interesting – an Okinawan lacquerware box (I guess I trust the experts that somehow we know from style, or otherwise, that this is indeed of Ryukyuan manufacture) decorated with the Tokugawa crest. And yet the labels say it's not typical of the kinds of things given as formal gifts, but rather that it was likely to be shown, or seen, in the hand 手元で鑑賞するふさわしい逸品である, whatever that means. Having written these notes before buying the exhibit catalog, and not having that catalog on hand right now as I type this up, I'll have to go back and look at it sometime, try to figure this out.
The exhibit ended with photographs and notebooks by Kamakura Yoshitarô, a prewar scholar whose mingei ("folk art") ideas about Okinawa were, I suppose, rather problematic in ways, patronizing and orientalizing. But at the same time, he was instrumental in having Shuri castle saved from destruction, and in saving or at least photographing or copying down countless examples of Okinawan arts, crafts, architecture, and documents. His notebooks have very recently been digitized and also published in modern type transcription by the Okinawa Prefectural University of the Arts, and are just invaluable for anyone studying certain aspects of early modern Okinawan history. So many royal government documents – not just about arts or whatever, but about policies and events too – survive today only in those notebooks. I've been reading a lot from these modern publications, but to see the originals was really something. His sketches are just incredible. I'm glad they've been designated Important Cultural Properties. They deserve it. I would love to see more of them in person. If possible, it'd be amazing to do just an exhibition organized around them.
Gradually working my way through my time in Japan this summer. Next, some brief thoughts on some various other places I visited, and then finally, Kyoto.