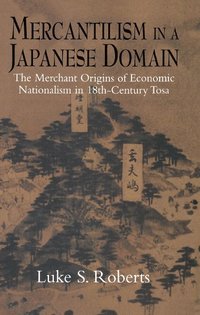 Following up on my post about Mark Ravina's Land and Lordship, I think it only makes sense to pair that up with a discussion of Luke Roberts' book Mercantilism in a Japanese Domain. The two books came out right around the same time, and are quite complementary, both significant, influential, books in promoting the argument for seeing the daimyo domains of Tokugawa Japan as semi- or quasi-independent "states" – a critique of earlier scholarly views of Tokugawa Japan as highly centralized and strictly, even oppressively, ruled. The view promoted by Ravina and Roberts has now become the standard view among historians.
Mercantilism in a Japanese Domain focuses on the emergence of the idea of kokueki (国益, "prosperity of the country") in Tosa domain in the early 18th century. This is a notion which bears some strong similarities to mercantilist thought, envisioning the prosperity of the country as separate from the prosperity of the lord or of his household, and advocating a variety of economic thought in place of a Confucian focus on morality, virtue, and diligent labor.
Advocates for kokueki thought supported a variety of different strains of economic thought, with some supporting the bullionist notion of amassed wealth as the measure of economic prosperity, and therefore advocating strong restrictions on the outflow of precious metals or certain other forms of wealth from the domain, while others argued quite the opposite, suggesting that it's the volume of trade which brings prosperity, and that the domain should not be afraid to export valuable goods, as it will only allow for the greater import of other valuable goods, enhancing the overall volume of trade. Meanwhile, many samurai officials, at least initially, employed the term kokueki to refer in a more conservative manner to the prosperity of the lord's household, perhaps with the notion that the lord's household equals the domain; drawing upon neo-Confucian notions of duty to one's lord and of proper observance of one's station, they asserted plans for increased prosperity which did not concern themselves with supply & demand or import & export, so much as the idea that everyone should behave more morally, more virtuously, meaning to be more diligent and more hard-working in their respective professions. Perhaps most interesting about these conflicting economic philosophies is that while the more mercantilistic approaches resemble European mercantilistic thought & policy, none of these approaches match up with what modern economic theory today would consider to be the most correct or valid. To be sure, some are startlingly innovative and progressive for their times, for their historical context, in contrast to the Neo-Confucian approaches. And, as Roberts details, these ideas of everyone working together for the prosperity of the country – the country as a distinct abstract entity disaggregated from the lord or his household, or from the shogun or the shogunate – play a prominent role in the reconceptualization of economic nationalism in the Meiji period. But the various economic philosophies that competed and negotiated in 18th century Tosa cannot be simply placed on a linear line of progress.
An Arita ware dish showing the provinces of Japan. Asian Art Museum of San Francisco. Photo my own.
Two other threads underlying Roberts' narratives and arguments about kokueki are also extremely valuable. One is Roberts' argument that despite documents by samurai officials which represent most (if not all) policy initiatives and ideas as coming from the lord, or from amongst samurai officials and prominent scholar advisors, suggestions submitted by commoners to the domain's petition box reveal that not only did commoners articulate these kokueki ideas before the samurai picked them up, but further, commoner/merchant ideas had direct impact on domain policy. The vast majority of the book discusses examples from only one domain, and only one aspect of policy approaches, but it strongly suggests the need for a reconsideration of our assumption that commoners, throughout the archipelago, played little or no role in suggesting or determining policy.
Further, Roberts' account also contains powerful arguments for the validity and importance of regional and local histories. It is my understanding that at the time this was written, the field was only just beginning to more fully open up to the ideas of domainal autonomy, and to seeing Tokugawa Japan as less centralized, less authoritarian, and more like a decentralized confederation of relatively autonomous states, albeit under shogunal authority. Roberts' Introduction includes a valuable discussion of the varying meanings and usages of the term kuni ("country," "state," "province"), and invites us to seriously rethink our imaginations of the political landscape of early modern Japan, which was structured according to a very different set of notions of political geography from our modern sense of the nation-state. Whereas much of the most prominent or most influential scholarship on Edo period politics up until that point had focused on the shogunate, and the shifts and changes in its policies, with the assumption of a relatively direct and strong impact upon the domains, here we see Tosa not simply being controlled by bakufu policy, but rather negotiating positions within that political environment, in order to seek what is best for the lord & his household, and later on, for "the country" of Tosa as a "whole." Some examples of this are seen not only in decisions about economic policy, in terms of bans or monopolies on exports, and the like, but also in the daimyô's exercising of agency, and displaying of interests differing from those of pure feudal loyalty, in claims to be ill, asking for delays in performing his various duties owed to the shogunate.
That Tosa presents a rather different case from, for example, Satsuma, makes it a valuable counter-example, alongside various other studies, including the work of Robert Hellyer. Tosa is large, but relatively poor, with relatively little good agricultural land. Unlike the Shimazu, who ruled Satsuma since the beginnings of the Kamakura period, the Yamauchi were not traditional leaders of Tosa and had to come in and assert their rule following Sekigahara. And yet, unlike many domains, Tosa recovered from severe debt, becoming economically strong enough by the Bakumatsu period to play the prominent role that it did. That the petition box system was apparently quite widespread, and yet little discussed in the more mainstream discussions of Edo period Japanese political systems and class structures, also makes this a particularly valuable contribution.
As with Land and Lordship, I would love to see a more thorough narrative description of Tosa history – not to mention the history of any/every other province of Japan – but, in the meantime, we're learning very valuable things about how to think about the "state" in early modern Japan; political centralization or decentralization; and so forth.