On our second day in Essaouira, the ICTM Mediterranean Music working group's conference began, and I attended for maybe about half the day. This was the real impetus for us coming to Morocco to begin with. It seems a good group, a very cool conference, to bring together some 70 people or whatever the number is who are all specialists in Mediterranean music (Andalusian, North African, Sephardic, Greek, Arab, or Ottoman), to such a special location, to discuss such topics. Makes me eager to try to attend their East Asia working group's conference sometime. Though it's recently been in Seoul, Taipei, Nara, Hong Kong, and Shanghai, I wonder if they might ever hold it in Naha, Nagasaki, Tsushima, Fuzhou, Hoi An, or somewhere else that might provide me an opportunity to go somewhere really special I haven't gotten to go to otherwise.
The harbor at Essaouira. Many of the fishing boats are painted blue, in keeping with the color scheme of the city.
In any case, while the conference was going on, I ducked out a few times, once to retrieve my camera from the Supratours bus company office as I had accidentally left it on the bus the day before, and once to just make sure I explored the key historical sites of the city. It's a small city, and though it has many gates and city walls, and who knows maybe spots of historical note otherwise that I'm not quite aware of (apparently Jimi Hendrix spent quite some time in a hippie colony / Berber village just down the road, called Diabat), it seems the only thing of really major note is the Scala – a set of fortifications right at the port. Built by the Portuguese, the Scala played a key role in defending the tiny Portuguese settlement here from Moroccan raiders and the like, and with Essaouira (then called Mogador) as a base of operations for Portuguese exploration, raiding and so forth, and trade. As we'll remember from our survey of world history classes, the Portuguese Empire, at least in its early centuries, was never one of conquering large swaths of land, but rather was all about establishing small trading posts: Mogador and the nearby Madeira Islands in Morocco (the latter still controlled by Portugal today), Goa in India, Macao in China, and various other spots along the African coasts. From their base in Mogador, the Portuguese traded with Madeira and elsewhere, and raided nearby (and not so nearby) African villages and towns.
The ruins of a fortress on a tiny island just offshore from Essaouira.
The city of Essaouira, we are told, really came about only after the Moroccans took back the area from the Portuguese, and a sultan named Sidi Mohammed ben Abhallah oversaw the establishment and expansion of the city. But the fortifications survive. In terms of how long it takes to walk around and see them as a historical/tourist site, they're small – it took me literally 15 minutes to see them, including the time it took to walk from and then back to the conference venue – but they're pretty cool. From the Scala, you can get some just gorgeous views of the city and the sea, of the ruins of a small fortress on a tiny island just barely offshore, and of the fishing boats, many of them painted a brilliant blue. The squarish towers seem iconic of a particular style and period – perhaps they're typical for 15th-16th century Portuguese architecture? – and the cannon still lined up all along the walkway evoke that for us. I wonder, if we went to sites in Ghana and elsewhere in West Africa, perhaps we'd see very much the same sort of thing – evoking a particular aesthetic, a particular imagined idea, of Portuguese empire in Africa. A space that is decidedly European, but also distinctive of that particular period, those particular developments, that particular set of phenomena, of 15th-16th (or 17th, 18th…) coastal fortifications and (slave) trading posts in West Africa.

Above: a section of the Portuguese fortifications at Mogador (Essaouira). Photo my own. // Below: a scene from HBO's "Game of Thrones" TV show, in which the site is used as the scene for "Slaver's Bay" or Astapor.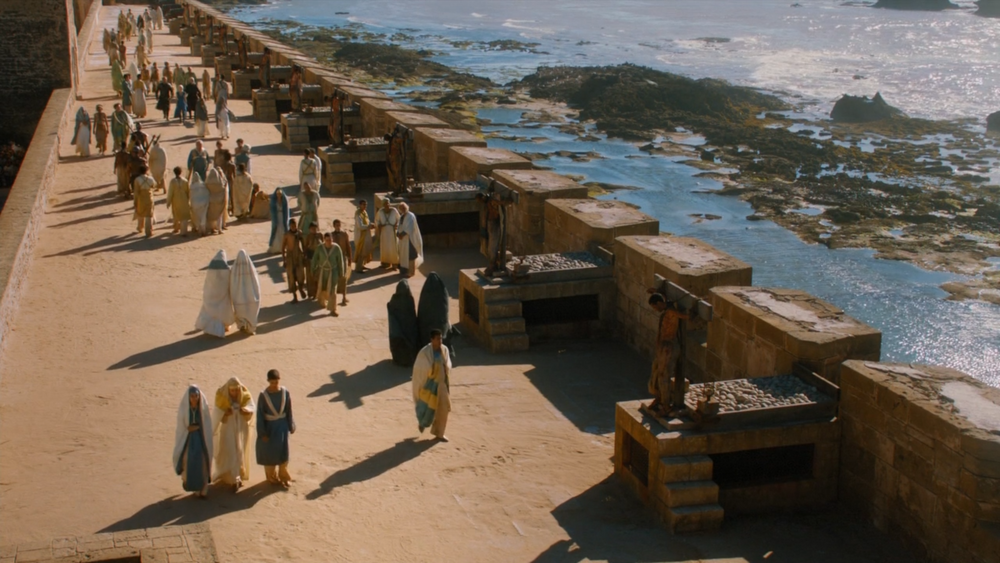 Of course, I was also excited about the Scala as it was a shooting location for Game of Thrones. Seems a bit weird that I should get to see this tiny piece of Astapor of all places – and not King's Landing or some other more central or major site from the show – but it is what it is. And once you see the screenshots, it's so recognizable.
Above: the "Walk of Punishment" in Game of Thrones. // Right: a section of the city walls of Essaouira. Photo my own.
I do wish they had more (or any) plaques explaining the history of the site. Thankfully, Wikipedia and various travel blogs and the like filled me in, and one of the last conference presentations of the first day gave a very nice overview of the history of the city for us as well.
The next day, I made my way to the other end of the fortress complex – while the Scala is prominently visible at one end of the beach, and on tourist guides, and charges 10 dirhams entrance fee, this other site has none of that. But it's otherwise fairly similar – and it was this site, I believe, that was actually the one where they filmed the Walk of Punishment. So that was a very nice find. Great views of the city once again.
Looking down into Essaouira's chief synagogue.
In the afternoon, everyone from the conference got taken on a tour of Essaouira's small Mellah by André Azoulay. He first pointed out that a gate we've passed by numerous times in fact features a circle of a Koran verse at the keystone (center, just above the arch), flanked by two Stars of David. Though the six-pointed star is a natural design to emerge out of pure geometric experimentation, and does in fact feature frequently in Islamic tiling designs, here he says it is definitely a symbol of Essaouira's Jewish history.
He then took us to the community's very small synagogue, which was a pleasure to see. Sadly, the explanation was given largely in French, so I didn't catch very much of it at all. But, attached to the synagogue, they are just now completing construction of a "House of Memory" – essentially a museum of the Jewish community in the city, though they don't call it a museum because apparently Azoulay, and I suppose others, feel that museums represent a culture that's in the past, whereas they wish to focus on the future. In addition to exhibits, the Memory House will provide some sort of spaces and resources for research. Dar Souiri, home of the Essaouira-Mogador Association, where the conference was held, also has a nice library of books on local history, and on Judeo-Muslim-Christian relations. I imagine that for someone doing research on just the right topic, these two institutions could be just perfect homes for them during research trips.
The House of Memory being constructed as a museum of the Jewish history and ongoing community of Essaouira.
Azoulay also told us that one of the writers of the very first US Constitution was a Jew from Essaouira, though I didn't catch his name. He was the first Jew elected to office in the US. He donated his land to what is now the University of Florida. His father wrote a very early anti-slavery treatise. If anyone can tell me the name of this figure, I'd appreciate it. We learned that a notable UK Minister of Defense & of Transport of the earlier 20th century was also an Essaouira Jew named Belisha.
After a simple dinner, we finished out the night with a conversation with this incredible eccentric woman who it seems practically lives here quite frequently, though only for a few weeks or months at a time. She wouldn't let me take a photo of her, which is a shame because she just seems such an incredible woman and I wanted to document in that way having met her and who she was. But, words shall have to suffice. A thin woman with wild white hair, an elegant blue and white scarf, and long black jacket or robe which made her seem larger than she was. Thin, a bit up in years, but so full of life and energy, and someone who just truly radiated presence. She said others have often described her as the woman of the house (madame d' l' mansion? I forget the French), and it certainly sounds like she has a special relationship with the proprietors or staff everywhere she goes.
But, it's funny. My first impression was simply of a cosmopolitan world-traveler who truly enjoys her retirement, in relaxing fashion. Then we learned of her multiple PhDs, her various forms of volunteer work in Kenya and elsewhere, even leaving her home in a major US city, for a time at one point, unlocked and open at any hour for the police to direct abused women to go there and have somewhere to be. Degrees in agriculture, storage technologies, etc., and experience advising governments and similar institutions around the world in agriculture, storage, education, medicine, all sorts of things. I forget if she said she was ever officially affiliated with the UN or only with other organizations, but definitely with organizations of that sort, at least at times. Makes her seem like someone truly of note, like she should appear in Google searches. It's truly amazing the kind of people you meet sometimes when you travel.
With the exception of screenshots from Game of Thrones, all photos are my own.