The main tower keep of Himeji Castle.
In between my visits to Okinawa, Kyushu, and Tokyo this past summer, before landing in Kyoto for the final week, I took the opportunity to make use of my JR Pass to visit a few other places, including Himeji Castle, Ise, a Tokaido post-station known as Futagawa-juku, and … So, before I get to finally talking about Kyoto (and then finally moving on from my summer 2018 Japan trip), this blog post is going to be a little scattered.
7/22 HIMEJI
Himeji is of course one of the largest, most famous, castles in Japan, and one of only a few to actually date from the Edo period and not be largely/entirely 20th century reconstructions. But, as it's a short ways west of Kobe, and not located within a major city, I had never gotten around to visiting it before.
It's certainly a cool thing to get to see, and with great history. The Sakai family lords of Himeji were interesting folks, including some very prominent and influential figures within the Tokugawa shogunate government, as well as figures like Sakai Hôitsu, son of one of the lords of Himeji, who never gained any political prominence or power but is surely among the greatest painters of the Edo period. I also very recently learned that several of the Sakai lords were real pioneers in patronizing Ming (Chinese) music in Japan. And, as I learned upon visiting the castle, Princess Sen (or Senhime), a daughter of Tokugawa Hidetada and wife of Toyotomi Hideyori, once lived there. Stories about her thus dominated much of the labels and descriptions within the castle.
Inside the main keep at Himeji castle.
I only wrote a very few thoughts/reactions about the castle at the time. But, one thing that struck me was the way they did it up as a history of the castle vs. as a history of the domain more broadly. It's funny… When visiting for example Fukuyama Castle (near Hiroshima), as well as Hiroshima castle, both of those pretty much just use the castle as a space to tell a much broader history of the domain, and of the successive lords of that domain. In both Fukuyama and Hiroshima castles, which were just chock full of artifacts, paintings, documents, displayed as museum exhibits, I felt it was a shame that we couldn't really get a sense of it as a castle. I wished they'd done it up more like a historical house recreation.
And yet, at Himeji, the first half of what I visited, the tenshu (main keep) has no objects on display at all, and is almost exclusively about appreciating and experiencing the space itself, the architecture, and the way the space was used at the time (primarily for storing weapons, and as a guard tower, from which warriors could defend the castle, or something like that). It's only in the second half of the site (a different, nearby building) that you learn about Senhime, and her life there. But even then, I was wishing there were more teaching us about the Sakai family, from Sakai Tadahiro to Tadazumi to… whomever. But I guess you can't have it both ways.
Of course, this castle also is mostly just empty rooms, and not anything approaching a recreation of what it would have actually looked like in use. So, there's room for going in that direction as well. I would still love to see any of these historic castles done up a little bit more to really show not just the rooms, but the furniture, etc.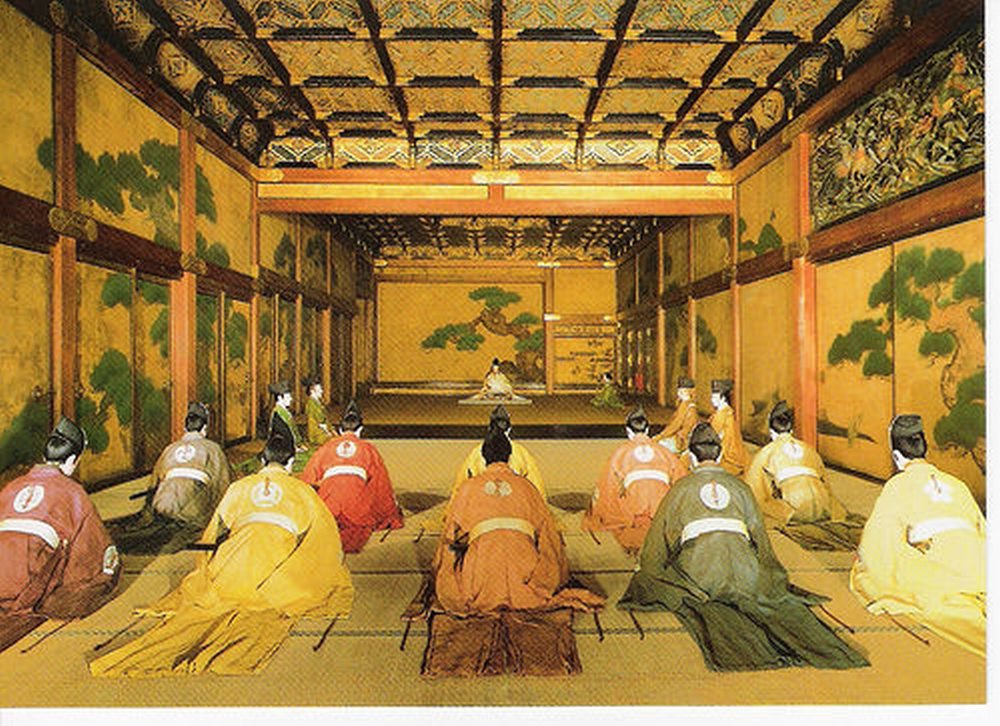 The Great Audience Hall (Ôhiroma) at Nijô castle in Kyoto.
Nijô castle in Kyoto does that to a certain extent. The Ôhiroma, or Great Audience Hall, at Nijô has mannequins arranged to show you how lords would have gathered before the shogun, and that I really appreciate. Really does just so much to show you how these rooms were used, rather than giving you an empty room and asking you to imagine. But even at Nijô, most of the other rooms are still left empty.
7/22 ISE
The small temple of Dairin-ji, in the Furuichi neighborhood of Ise. And, just to one side of the main temple building, the graves of Magofuku Itsuki and his lover Okon, the inspiration for the Kabuki characters Fukuoka Mitsugi and Okon.
On my way from Himeji to Nagoya, I stopped in Ise. As you do. Actually, for anyone reading this and planning your own trips, note that actually Ise is rather out of the way. You can take the Shinkansen (bullet train) straight from Himeji to Nagoya; Ise is not strictly-speaking along the way. Only local trains and not bullet trains go there.
As I wrote in a series of blog posts quite a few years ago, Ise was historically not only the site of one of the most important Shinto shrines in Japan, but as a pilgrimage destination it also developed in the Edo period a very notable neighborhood of inns, theaters, brothels, etc. There is very little left to see today of the Ise Furuichi ("old market") neighborhood, but even so I was very much curious to see it, as Ise Ondo Koi no Netaba, the kabuki play I took part in during my time in Hawaii, was set there. So, I visited the Buddhist temple Dairin-ji, mentioned very briefly but never seen in the play, where Manjirô escapes to briefly, so as to not be seen by… I forget, who, actually. And, perhaps more importantly, the real individuals who served as the basis / inspiration for the main characters of the play are buried there. It was kind of funny trying to find the temple. I'm not sure exactly what I expected. Well, I expected that the temple grounds might be even just a little bit larger than they turned out to be, and in particular, I expected that there would be some kind of traditional wooden gate. I don't know why, but somehow I had in my mind an image of the big wooden gate to Dairin-ji, and that that would be where I might take a photo. As it turns out, there is no gate. Not even a modern one. Just a single main temple building (and a few smaller more modern ones attached to it), immediately facing (or, depending on how you look at it, situated within) a small parking lot, and then to the side of that, an extremely small graveyard, no more than 10 or 15 gravestones. And, a stone marker indicating the name of the temple. That was it. I'm glad I went, glad I saw it, but there was really nothing at all to see other than to take a couple of photos and move on.

Sadly, I arrived too late in the day to see the Ise Furuichi local history museum. So, I do wonder what that might be like. For all I know, it might surprise me. Might be quite nice and newly-maintained, like the ones at Futagawa and Tomonoura. Maybe all that I expected to find at the temple might be satisfied at the museum. But, yeah, sadly, I didn't get to see that. Fortunately, however, just as I was despairing at having come all that way just to see so little, I came upon a small stone marker (right) indicating the former site of the Abura-ya, the brothel where nearly the entire play takes place. Actually, it's funny – I opened up Google Maps to search for it, to search for where it might be, and then noticed it was actually right there right in front of me. Haha. Wow. Not that this was much either – it truly is simply nothing but a stone marker. But, even so, as something I'd hoped to see for years, I was glad to not leave without spotting it.
Of course, I didn't leave Ise without visiting the shrine. But, to be honest, and I'm sorry if any of my Religious Studies friends take offense or something, but after having visited Meiji Shrine, Atsuta Shrine, and some other such places that also involve very long walks through wooded paths before you finally actually get to the sacred center, I kind of felt like I'd seen and done that before. And since, of course, at Ise you're forced to remain at a certain distance from that sacred center, and can't go in further past a certain point, well, that was about it. Even the closest point you can go, the one place where there really is something (anything) worth taking a photo of, is the one place where you're not allowed to do so, and they have a pretty serious-looking security guy from the Imperial Household Agency (or something? I forget) watching to make sure you don't take photos. So, *shrug* that was that. If I'd had more time, I might have enjoyed the touristy shopping street just outside the shrine, get a little more of a feeling of having actually experienced something by coming all the way out there, but, oh well. I'm sure I'll be back, eventually. Maybe in 2033 when they rebuild the shrine over again, haha.
7/23 NAGOYA
From Ise, I then made my way to Nagoya. I'd been to Nagoya before, and had seen all the really major sites – Nagoya castle, Atsuta Jingû – so this time, while I had just a day or so, I made sure to poke out to some more minor, but interesting, sites related to the Ryukyuan embassies to Edo.
Since Atsuta Shrine was a major destination, it was also a stop on the Tôkaidô. Just a few blocks away from the shrine, though there's nearly nothing to see of it today, is a small parking lot and a stone marker marking where the Red Honjin, the main elite lodgings at this Miya-juku (lit. "shrine post-station") once stood. The honjin can be seen in an 1832 illustrated book known as Meiyô kenbun zue, which I've quite enjoyed using for my research.
Above right: A gravestone at Zuisen-ji in Nagoya, for Tomiyama peechin Ryô Bunhitsu, musician who died on the 1832 embassy. The inscription reads 「中山富山親雲上梁文弼久米村儒家以楽師于後江戸来至没於尾張国鳴海駅回葬馬時午三十八」(roughly, "Tomiyama peechin Ryô Bunhitsu of Chûzan [i.e. Ryûkyû], master musician and Confucian scholar of Kumemura, later traveled to Edo and died at Narumi station in Owari province [i.e. Nagoya] … [and then a part I don't quite understand; he died at age] 38.).
Also quite nearby is Shichiri-no-watashi, the former site of a boat dock where people used to arrive and depart for the crossing across Ise Bay to Kuwana. A Ryukyuan mission was nearly lost in a storm on this crossing in 1671, and so from then on (with one exception), they took an overland route.
Finally, I also visited the really small and slightly out-of-the-way temples of Kaikoku-ji and Zuisen-ji, where Tokashiki peechin Shinfu Ma Gen'ei (a member of the 1748 mission) and Tomiyama peechin Ryô Bunhitsu (a master musician on the 1832 Ryukyuan mission to Edo), respectively, are buried after dying of illness on the journey. Sadly, this was not entirely uncommon; the almost complete separation of Japanese and Ryukyuan populations, combined with the Ryukyuan lack of experience with cold weather, were likely key contributing factors, and a number of members of embassies to Edo caught Ryûkyû no kaze (the Ryukyuan cold, or Ryukyuan flu) and died. Many Japanese fell ill, however, too, whenever Ryukyuan embassies passed through their towns, so Ryûkyû no kaze went the other way as well.
A guardtower at Shichiri-no-watashi, at what is today known as Miya-no-watashi Park 宮の渡し公園. I wish I might have visited the corresponding site at Kuwana on the other side of Ise Bay, but there was no time.
7/24 FUTAGAWA-JUKU
The entrance of the main honjin at Futagawa-juku, as seen from inside the building, looking out towards the street.
I then sped to Tokyo to meet up with some professors, and a day or so later took the Shinkansen out to Toyohashi City, Aichi prefecture (which was a fair bit farther from Tokyo than I'd thought), to visit the honjin museum at Futagawa-juku. Futagawa was one of 53 official "stations" along the Tôkaidô, the chief highway connecting Edo (Tokyo) and Kyoto. When daimyô (samurai lords), Ryukyuan or Korean embassies, imperial envoys, or certain others passed through such post-stations, they were often provided lodgings at a honjin – a special inn set aside for such elites, that was usually larger, nicer, better than the other inns, and that often included certain special amenities for precisely that purpose, such as a small area with a raised floor, so that the lord could literally sit above his retainers when he met with them. These honjin often served as lodgings for only a portion of the time, and often doubled as the home and/or main "office" so to speak of the town headman. Getting to the point, the honjin at Futagawa is one of only a very few that are still intact, and that are maintained as a museum.
I wasn't quite sure what to expect from such a small local history museum, but I was certainly not disappointed. Quite to the contrary, I was pleasantly surprised and impressed. All along the main stretch in Futagawa, along the old Tōkaidō, nearly every house and shop has the same blue Futagawa-juku noren (curtain) hanging outside. Makes me curious, if people really feel a strong connection and pride in the history or whether it has more to do with community, or how exactly they (and we) might characterize it.
The honjin itself is huge. I guess I'm not surprised, it totally makes sense that for an inn worthy of a daimyo, and one that can house 30-40 of his followers, it would be such a size. And of course not all honjin were this big; they varied, and we can look that up. But to see it first-hand, experience the number of rooms, is something. A much different experience from simply reading about their size or capacity, or looking at illustrations or diagrams. And the Museum itself, housed in a neighboring building, was surprisingly large, too, with two floors of exhibits. Awesome of them to allow photos too.
The beginning of the second floor exhibits at the Futagawa-juku Museum, showing travelers on the Tôkaidô.
Plus, the curator, Wada Minoru, was so kind. He not only came out and helped show me exactly which publications listed the relevant documents, but he even was willing to go and get them and let me see them immediately. If he had said you have to make an appointment, I would have totally understood. But he was willing to take the time to let me look at them immediately. Amazing. Of course, who knows how useful they'll be especially since I really don't have the time to actually read them. But… Maybe just by having them in my HD, I'll gain something by osmosis or something, haha.
I know I'll never work for such a small local history museum; unless I end up doing some kind of research on the museum itself, I don't see how (why) I would ever find myself actually spending more than a couple of days there. Which is sort of a shame, really – considering that they actually seem to have a pretty great operation at the Futagawa-juku Honjin Museum. The exhibits are very nice, they publish a lot of good catalogs … The local museum at Tomonoura is perhaps similar, but even so their exhibits were still not as extensive as those at Futagawa.
I feel like it would be really great to get to know some of these museums, and their surrounding communities, a bit better. Someday. Somehow. At the very least, I do want to go back to Futagawa someday, if only to visit the small local history museum at the Arai sekisho (checkpoint) a couple train stops away, and Hamamatsu (Okitsu) and Sunpu (Shizuoka), where there are a few more Ryukyu-related sites to be seen.
For now, though, this past summer, I simply went back to Tokyo, finished up my business there, and then headed to Kyoto for the remainder of my summer sojourn.
All photos my own.