Seventy-five years ago today, on May 1, 1945, Jewish prisoners being marched through the snow by Nazi soldiers, out of the Dachau concentration camp and to their deaths, encountered members of the 522nd Field Artillery Battalion, part of the famous all-Japanese-American 442nd Regimental Combat Team, and were liberated by them.
Photo of liberated concentration camp prisoners by Sus Ito, a member of the 522nd. (Sus Ito Collection, Japanese American National Museum)
I cannot be 100% sure – after all, there were so many sub-camps, and different US military groups liberating different areas at the same time – but I believe my grandfather may have been among those liberated at that time by these Japanese-American (Nisei) heroes.
A record, I presume from some branch of the US military, indicating that my grandfather, Abraham Seifman, was "liberated during the march of death 1.5.1945."
Lisa K. Menton, a scholar with the Hawaii Holocaust Project, an oral history archive of interviews with some of these Nisei soldiers, writes that "Understandably, the men cannot remember the exact place or date when some of them first began to see people, wearing what many of them describe as blue-and-white pajamas, straggling along the wooded roads of southern Germany. Most of them distinctly remember, however, that there was snow on the ground, even though it was late spring, and they indelibly remember the dead and the dying."1
She quotes Barton Nagata, a radio operator for the unit's commanding officer, as recalling:
I think it was around Schaftlach, in southern Germany below Munich when I became aware of these people in this little village wearing this striped uniform. Well, looks like pajamas to me. I kept wondering, "Who are these people?" Then I found out these were concentration camp inmates. So, well, at that time, you know, it just didn't strike us how much these people had suffered. But as I saw more of them the next day along the road, I see them dead or dying, I began to realize how much these people had suffered.1
My thanks to Joey Kamiya for posting the following video on YouTube, featuring interviews with some of the soldiers and survivors:
Shortly after receiving these documents and realizing – because of the date – the possible connections with the 442nd/522nd, I happened to mention my "discovery" to an Okinawan-American fellow from Hawaiʻi who I met one night at the Okinawa America Association in Los Angeles, who told me that his uncle was in the 522nd and was there, or somewhere in that area, somewhere in that same snowstorm, that same liberation effort, that day. I don't know that I would have ever expected to find such close connections between this community and my own family history. I don't think my grandparents could have ever imagined that their grandson would someday visit Japan, Okinawa, and Hawaiʻi, would end up becoming a scholar of Japanese and Okinawan history and culture of all things, would end up meeting the relatives of some of those involved in the liberation in this way.
I am so grateful to the US Holocaust Memorial Museum & the International Tracing Service for providing me with this and many other documents pertaining to my family. For years and years I had no idea about this service, and neither my father nor anyone else in the family, so far as I knew, suspected that we would ever find any records at all about our family from that time. But then, in the process of repairs and recovery after Hurricane Sandy (which struck NY in 2012), we found a shoebox, which I guess had been way in the back of a closet or basement somewhere, full of old family photos. This spurred me to start investigating. And so I found the International Tracing Service, an incredible resource. You simply enter as much information as you can about the person you're looking for – name, birthdate, locations if known before, during, and after the Holocaust – and "museum staff will search the records of the ITS Digital Archive free of charge for survivors, their families, and families of victims." Then they send you digital files; far more than I'd expected could be found so easily. "The Museum honors as Survivors any persons, Jewish or non-Jewish, who were displaced, persecuted, or discriminated against due to the racial, religious, ethnic, social, and political policies of the Nazis and their collaborators between 1933 and 1945."
I'm still in only very early stages of investigating all of this further; I've only made a few tentative efforts to find any further materials, and haven't gotten around yet to asking anyone for translations either. I know I certainly have a lot of reading to do – World War II, the Holocaust, and Japanese-American history are not among my professional specialties, and there are dozens upon dozens, probably hundreds and hundreds, of books out there where I could learn further context for the places and moments my grandparents experienced. I hope someday to take the time to look into all of this more deeply, hopefully if I'm lucky to find a lot more, and to pull it all together more. But, on this initial step, my deep gratitude to Lily Anne Welty Tamai who generously shared from her research and expertise on photographer Sus Ito and the 522nd, and to Anne Yonemura and others who shared from their family stories and pointed out further books, articles, and archives to consult, when I initially posted the above document on Facebook last year.
…
The 442nd / 522nd were incredible people. So much has been said about this group, the most decorated unit in US military history – the group with the motto "Go For Broke," who in October 1944 rescued the "Lost Battalion" surrounded by German forces in the Vosges Mountains in France – that I am not sure what to add.
You can read more about Sus Ito on the Japanese American National Museum (JANM) website. A member of the 522nd, he was (fortunately for us, for history and posterity) permitted to skirt the rules against carrying a camera, and brought home numerous photos of what he saw and did during the war. I wish I had gone to see this exhibit myself in 2015 when it was up at JANM. I was living in California at the time; I certainly could have gone. A terrible missed opportunity. Here is a video associated with the exhibit (for which, again, I expect we have Dr. Tamai to credit and thank):
Watching this video and seeing this one photo of Ito's mother and sister in the Rohwer Internment Camp in Arkansas, I could not help but think of my grandparents, and two of their sons, my uncles, just babies at that time, who only a few years later were in Displaced Persons (DP) camps halfway around the world in Germany – camps which were, to some extent at least, run by the very same US government, the very same US military.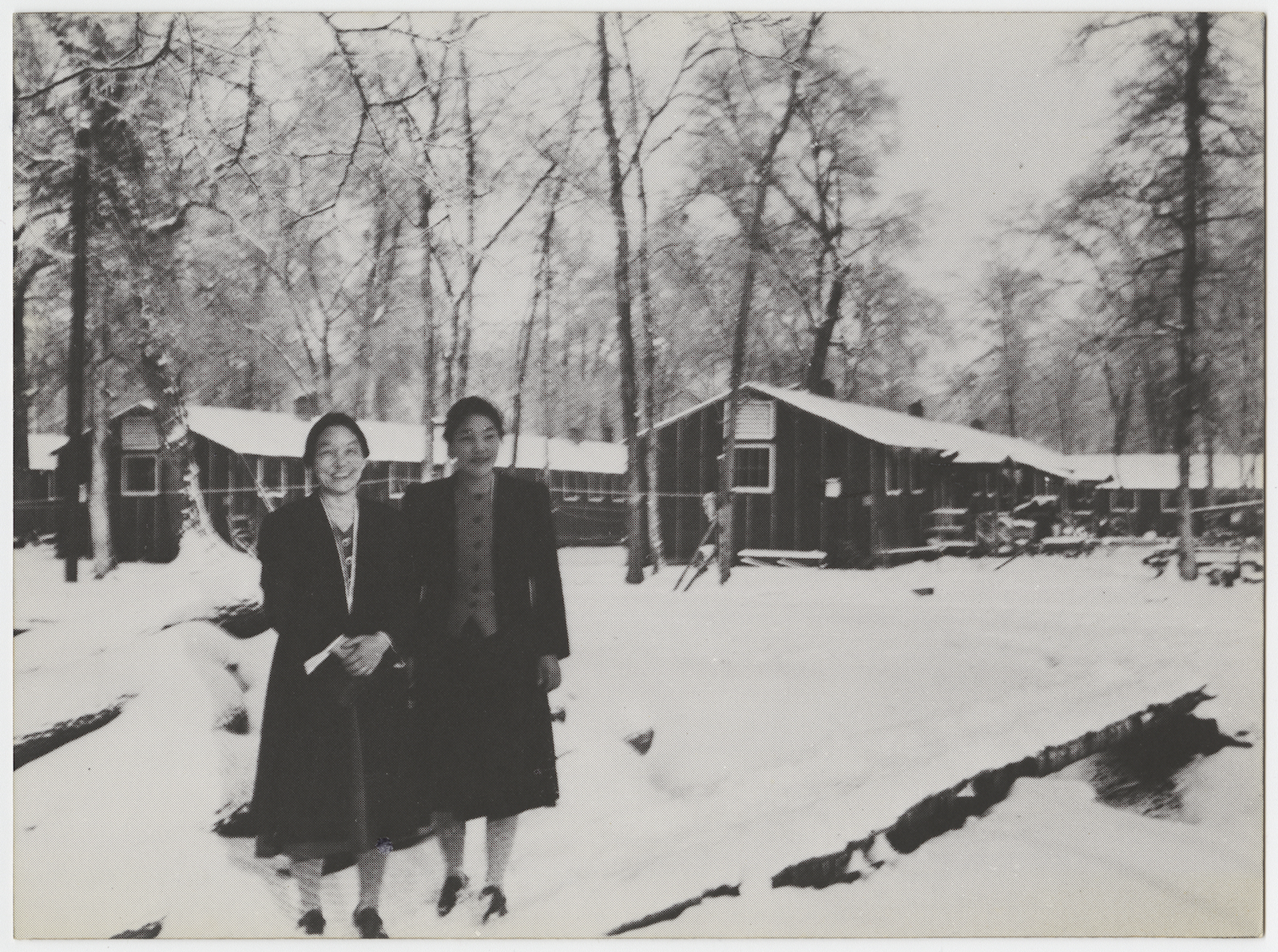 Photo by Susumu Ito of his mother and sister in the Rohwer internment camp, Arkansas. Early 1940s, presumably. Japanese American National Museum, 94.306.
My grandparents, Abraham and Zisel (Sophie) Seifman, and their eldest son, my uncle Chaim (David), in a Displaced Persons camp in Germany, late 1940s.
The brave young men of the 442nd/522nd, even as their own families were being held in camps, treated as enemy aliens by their own government, went and fought for that government, for that country, putting their lives on the line, and in the process helped to liberate a continent, and to rescue countless lives. My grandparents met, married, and had two children in the DP camps after the war; camps built on former German airfields by the United Nations Relief and Rehabilitation Administration (UNRRA). They spent roughly six years in those camps, before coming to New York in 1951. Zeyde (that's Yiddish for grandpa) came to own and run a luncheonette-style diner/sandwich shop, and then a newspaper stand, in Brooklyn; I imagine it as similar to what we today call bodegas, though perhaps I'm wrong and his shop wasn't quite like that.
My father tells me that his parents, my Bubbe and Zeyde, never spoke much at all about their experiences before coming to the US, and I never got to know them, as they both passed away when I was a child. I would like to believe that they might have developed some kind of relationship with Japanese-Americans who came into my Zeyde's shop, even maybe just one person, though I suppose that that fateful day in May 1945 was but one moment in a long line of unbelievable experiences, and that the demographics and ethnic politics of Brooklyn at the time, despite being literally one of the most diverse places in the world, may not have lended towards such encounters. I don't know.
But I'm still thinking about it. As these events were happening at Dachau, at the same time, halfway around the world, US warships were battering Japanese defensive positions on the island of Okinawa, and US soldiers, having made their first landing on the island a month earlier, were gradually closing in on the military headquarters at Shuri. Fighting for Okinawa would not end until June 22. Some 240,000 people lost their lives, including according to some estimates as many as 150,000 Okinawan civilians. Japanese- and Okinawan-American soldiers saved lives there, too. But the island, sacrificed by Imperial Japan in an effort to protect "mainland" Japan, was devastated, and in some meaningful ways might be said to still be recovering.
My awe, appreciation, and sympathy for what Japanese-Americans and Okinawans each suffered through during this time, and for how each group has survived, rebuilding new lives, with a spirit and strength and pride, only grows deeper, stronger, the more I learn.
——
1. Linda K. Menton, "Research Report: Nisei Soldiers at Dachau, Spring 1945," Holocaust and Genocide Studies vol 8, no 2 (Fall 1994), 262-263.