The first time I saw Lost in Translation, it was for me 100% about the city of Tokyo, and about my own nostalgia and love and longing for that city. I had had a whirlwind 4 months there as a study abroad student, my first time so far from home on my own, my first time in Japan, exploring and experiencing Tokyo in the way that I imagine many 20-year-olds do, running around in groups of five to fifteen, experiencing and enjoying everything. Tokyo that city of such energy and excitement, and it was just such an incredible time, one of the absolutely best times of my life thus far. And when Lost in Translation came out later that year, I didn't know at that time whether I would ever be in Japan again.
So, for me at that time, Lost in Translation was all about re-living that experience, in a sense, taking in the lights and sounds and fun and enjoyment, and about identifying in a sense with these two characters for whom Tokyo is also very new and very strange… For me the movie was all highs and lows, fun and engaging, but also sad because it reminded me of something very exciting and also very engaging that I might never experience in the same way again – or, might not experience at all.
After all, the first time I went to Japan I never expected that I would ever go back. It was a crazy one-time adventure, something far beyond the bounds of anything I'd ever done, and indeed beyond the bounds of where either of my parents had ever traveled, or thought to. I went to college a mere four hours away from home (insisted on going out-of-state, because I did want to get away a little, but still went to Boston, a much "safer" choice in terms of big culture shock or whatever; didn't even consider California or anywhere nearly that far away) … and I just always assumed that with the exception of this one crazy time in Japan, I'd come back home to the East Coast, and get a job in New York, and be "home" in New York the whole rest of my life.
The lights of Akihabara, from my first time in Japan, way back in 2003.
But I'm getting off-track. I have seen Lost in Translation several times since then, and I don't really remember how I felt about it the third or fourth time. But now it's been a long time since the last time, and, well, it's interesting how incredibly different the film feels this time around.
I'm glad I never did end up watching it with my (now ex-)girlfriend. I had wanted to watch it with her because I wanted to share my love for Tokyo, share with her what the film meant to me in that way. But she's very much the type to engage deeply with the characters' emotions and motivations, their dramatic arcs and the overall emotional or interpersonal themes of a film, and watching it now, again, I can see those things so much more starkly than I ever did the first or second time I saw the film.
What exactly is this relationship? I had completely forgotten that Bob and Charlotte kiss at the end – a seemingly romantic kiss, not like the kiss on the cheek in the elevator a few scenes earlier. And watching it this time around, I got a much clearer sense of these two people, their relationship developing. Both of them, and the viewer, wondering how far it will go, or where it is going, or whether the both of them are losing interest in their own relationships. The scene where Bob is in the bath and on the phone with his wife, and she says something like "well, if you like it so much there, maybe you should just stay" – I had previously read that through the lens of how much I loved Japan, and basically just that she was being difficult or obnoxious or whatever because she didn't "get" it. And similarly, I guess, the scene where Charlotte is at a shrine in Kyoto and she sees a Shinto wedding – I had taken that to be just one more element of how she is experiencing and appreciating Japan, and how the filmmakers are sharing with us that beauty, that peace, that experience. Watching it again, now, I realize the connection, where just a scene or two earlier, Bob and Charlotte had been talking about how marriage is difficult. And both of them are in such difficult places at this point in the film (well, throughout the whole film) in terms of how they feel about their partners, their relationships. And so she sees this newly married couple, and I suppose there's supposed to be something unspoken there, about wishing and hoping that they'll do better, that they'll actually be happy … or something about how we all have difficulties, but it's worth it, and it will be the same for them.
There are also these moments where Bob and Charlotte realize they don't actually know each other that well – they surprise one another at the choices they make. Like when Bob sleeps with the red-headed singer from the bar.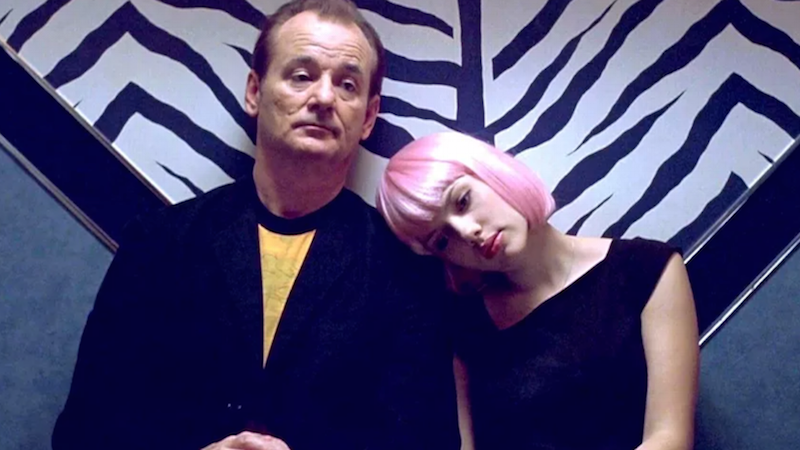 I see even more clearly and strongly now how it's not necessarily really a movie about Japan, or about Tokyo, but rather about people, and relationships, and it's really a story that could be set almost anywhere in the world. Though Tokyo does present a particularly good location in terms of being very foreign, very different, and yet at the same time very comfortable and navigable.
That said, though, whether Japan or not, it *is* also a movie about a particular style or mode of experience. Most of the movie takes place inside the same hotel – at the bar, at the pool, inside their guestrooms. Hotel life can be extremely comfortable, luxurious even. That's kind of the point. And they're definitely staying at a really nice hotel. But it can also be sort of sterile and isolating. It's one way of experiencing a place, and it's certainly a valid experience, but it's a very different one from experiencing the city in other ways. Yes, Bob and Charlotte do get out and meet people and go to some clubs, and so forth, and I suppose we can maybe assume that they get out and see and do a lot more, in between the scenes, that we never see. But then again, maybe they don't. We're supposed to believe that the entire film takes place over the course of just one week or so, and I haven't counted how many days and nights we actually see them experiencing, but… I dunno, I think we maybe do get the sense that they really have spent most of their time in the hotel, that both of them are in a sort of frame of mind that they wouldn't even know where to go, what to see, if they did get out. I don't know if either or both of them are "depressed," per se, but they're definitely lost, and they're definitely spending a lot of time in their rooms (or in the pool, or the bath, or the bar) just thinking and being alone…. So, they're experiencing a very particular experience of the city. When they do go out, it's a lot like my first time in Japan, I suppose, in terms of going out to bars and cafes and karaoke and just having a good time… Very different from my experience on later trips, where I speak the language and know my way around, and …
Bob in the hospital, waiting for Charlotte to get her x-rays done, holding a giant fuzzy owl he bought for her. Image from IMDb.
But, anyway, getting back to the relationship, it's an interesting one. It's kind of wonderful to see people having that kind of relationship, and it's really kind of romantic in a way – I mean, in the sense of a fantasy, an ideal, that one is envious of, even if we put aside the ways in which it's a romantic relationship in the sense of romance. Even putting aside the romance aspect, if we pretend it's a slightly different movie from what it is, if we pretend that they stay (just) friends throughout the whole thing, keeping in mind after all the big age difference and that they're both married and that the romantic relationship between them is therefore really kind of dangerous/cringey at times (I can't count the times that I was thinking, yikes, Bob, be careful make sure you don't accidentally cross a line. She's 22, Bob! Not to mention the fact that Scarlett Johansson was under 18 when this was filmed…) … but pretending they were to stay just friends throughout the film, what a friendship that is. To take her to the hospital, in a foreign country, in a foreign language, and to do it while playing around in that way (with the wheelchair and so forth); ribbing on one another and messing around, and somehow knowing (I guess not knowing, but just because it's scripted that it works out) that the other one won't be offended… What a beautiful wonderful friendship. I'm not sure that I feel like I have any friends like that anymore, who I'm that close to. Everyone I know, I still feel a certain distance, a certain anxiety and awkwardness about whether they really want to be my friend, about how much is too much to ask of them or to expect from them. And the older I get, the more of my friends are married – they have someone else to go home to, someone else to spend so much time with, and so no one is looking to spend that kind of intensive friendship time with me.
I think I had friendships like that when I was younger – certainly when I was in Japan for the first time, I think there are friends who I could call up and arrange with to just hang out, to just go out all the time. Thank god none of us ever had to go to the hospital, but I think we would have gone with one another – being in a foreign country, and needing that kind of help and solidarity makes a big difference: sure, I'll go with you, and we'll figure things out together. Whether it's the hospital, or getting a bank account, or getting a cellphone, we did it together, so we could be there for one another, help one another figure it out, etc.
Bob touching Charlotte's foot while they lie in bed together. Image from IMDb.
To be honest, I'm not even sure what I think of the film anymore in the end. The fact that they kiss at the very end actually gives me problems, I think. Because if they didn't, then it would mean that this was a film about how other kinds of relationships are possible. That when staying in a foreign city for only a few weeks, and even when committed to other people, you can still form friendships of a particular type, that's exciting and fun and at the same time really close and deep and meaningful, even if only in that place, even if only for that time. I know plenty of friends who I've had an amazing time with traveling, and either not really kept in touch with at all otherwise, or just had a different friendship, a different experience with otherwise. And whether Bob and Charlotte ever see one another again after parting ways in Tokyo is left completely open; I could of course imagine it going either way, either that they never see one another again but they just have this one incredible experience in their memories, or that Bob whispers in her ear something like "hey, if you're ever in town, let me know, and let's hang out, let's get together again." Which, I guess we're supposed to think they both live in LA, but that would work better if they didn't, and then we could imagine that maybe X years down the road, or once every few years from then on, they get together and just hang out again. But that really only kind of works if they're friends – the kiss at the end means they basically have to either break it off with their spouses and try to get together, or break it off with one another and either never see one another again or really try to set some kind of boundaries to force this romantic relationship to be only a friendship…. It complicates things terribly.
Bob catches up to Charlotte on his way to the airport, after saying goodbye at the hotel. Image from IMDb.
I don't know. I really kind of hate that they put that in there at the end. And it makes me think of Kimi no na wa also – where it's not spelled out explicitly, it's not shown on screen explicitly, that they get together in the end romantically, and I wanted to imagine that they might just form a friendship, a special friendship, where they get together once every few weeks or months and share that special bond they don't have with anyone else, those memories, those experiences, but why should it have to happen romantically? Why can't they each end up with different people, and be happy for one another, and still be friends? There are most certainly women in my life who I would like to thing I have a special, close, friendship with, even though they're married to other people. But, regardless, even when they were dating (or even married) to other people, we still had lunches and coffees and drinks and had what I thought was a special time, a special close friendship.
It's funny, now that I know the city so well, and really live in it, a film like Lost in Translation comes across as covering so little of the city. Such a foreigner's, visitor's, superficial experience of the city. And, actually, unless I missed it, I'm not sure we even saw Takeshita-dori in the film at all. They spend most of their time in the hotel, and when they do go out they take taxis, and yes they go to some clubs, and even to some friends' apartments, but for the most part they're not really getting out into the city, not nearly as much as my friends and I did in that first 4-month study abroad experience, and most certainly not anything like what I've experienced since. … Of course, they're only there for a week, in a hotel, so what are you supposed to expect? It's much more like… where have I been recently? Like my time in Jakarta, is probably a very comparable case, where I don't speak the language and I don't even know what's to see, where to go, even once I do get out and go into the city… And so I ended up spending most of my time at the conference hotel, and at the shopping mall, and otherwise just walking up and down one main street….
In a Crash Course: Film Criticism video, Michael Aranda references a film scholar/critic as interpreting the entire film as a critique of capitalism. Both main characters seem overwhelmed and alienated by the excess of the city. An interesting interpretation, and well-argued, with some good evidence: both spouses (the wife back home in the US with her constant talk of carpet squares and remodeling, and the photographer husband – along with Anna Faris' character – in their eager pursuit of the racing, exciting, but ultimately empty world of celebrity and so forth) represent excess, and petty, empty, capitalistic desires. The process or experience of filming the Suntory whiskey ad ("For relaxing times, make it Suntory times") feels empty, nonsensical, meaningless. And when Bob & Charlotte do go out into the city, it's loud and flashy, cacophonous. Their own relationship emerges more in absence, and in quiet.
Okay, sure. A compelling, well-argued argument. But I just never got that. I watch this film, and through these two protagonists I see myself, desperate to engage with all that the city has to offer, wanting to get the most out of it and enjoy what everyone else seems to be enjoying, but never knowing how to get there. How to find the right bars, how to find the right people and places to create those experiences. And so, when Bob & Charlotte go out with friends and end up listening to great music – great music that Bob says he'll try to find and buy, and which his wife just doesn't get – or when they go out to karaoke, or when Charlotte goes out to temples & shrines in Kyoto, they do find things to engage in and engage with and enjoy. It's sitting in the hotel that's alienating – gazing out at a city they don't know how to engage with.
Aranda's second key point, taken from a different film scholar, has to do with the way Japan is used for comedy, and in stereotypical ways. Yes, for sure, there are elements that are very stereotypical. But I think it represents honestly and genuinely an American's, or a Westerner's, first experiences of Tokyo. This is what you're going to see, this is what is going to stand out at you. This is what you're going to expect to see, and then see, because those are the stereotypes. Okay, sure, the "massage artist"/escort who someone sent to Bob's room, who asks him to "lip her stockings," was totally unnecessary and meaningless, and perhaps one of the most cringe-worthy moments in the film. But this idea presented in this video of focusing on the quiet, deep, meaningful things like temples, shrines, and ikebana, and then showing how most Japanese (e.g. in the pachinko parlor, or the game arcade) seem to have forsaken or forgotten those things, as if the film is trying to tell us that the Japanese people are hypocrites about their own culture – I think that's maybe reading too much into it. I watched this and I thought, simply, this is an accurate representation of Tokyo, and especially it's an accurate representation of one's first experiences. Tokyo has both. It contains multitudes, to use a cliché. That doesn't mean that one thing is more vapid than another; I watch this, and I see Charlotte enjoying herself, being amused and entertained by seeing in person the lights and sounds of a Tokyo game arcade, as well as also enjoying and appreciating the quiet beauty of a temple or shrine. Bob and Charlotte go to karaoke. They walk (or take taxis) through the lights and sounds of Shibuya's famous scramble crossing. They go out with friends and enjoy some classic Japanese rock. They're enjoying and experiencing Tokyo. This is Tokyo. This is how it is. Some of it is playing into stereotypes; some of it is gratuitous. But most of it I think is just representing what many people's first experience of Tokyo actually is like.