The first panel I made it to during the Assoc. of Asian Studies conference this year was one titled "Early Modern News: The Fall of the Ming on a Global Stage." The use of the word "stage" here is quite clever, as the panel was discussing the representation of the Ming and its fall in theatre.
Now, before I go further, I'd like to offer a brief disclaimer: I apologize if I may misrepresent the facts or the arguments from any of these papers – I am merely going from my notes, and there is plenty of opportunity for mis-hearing or misunderstanding things said in an orally presented paper. Also, I am sure that in these panel summaries/reports, for the sake of brevity and cohesiveness of my blog posts, or for whatever reasons, I will be skipping over major sections of papers, or skipping some papers entirely. No offense is meant to those scholars; I thoroughly enjoyed and appreciated all of the papers I heard presented at the conference.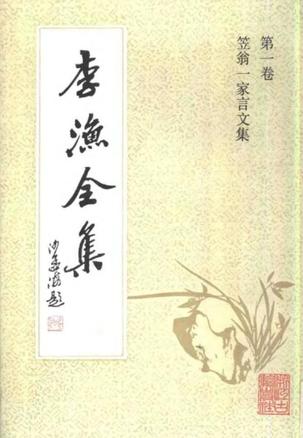 The panel began with Sarah Kile, professor at U Michigan, who presented on Chinese playwright Li Yu (1611-1680). I'd never heard of him – I wonder how big-name he is, and if it'd be possible to study the sort of Chinese history in which he'd come up, rather than the course I took last quarter, which was pretty much a total wash, more or less completely useless for my interests. In any case, he sounds like a really interesting figure. I'm not positive what type of theatre he was involved with (kunqu? It's too early for jingju, right?), but the ways in which he was involved in popular culture & literary circles, as well as his thoughts on theatre, make me very interested to learn more about him, and about the early Qing popular culture realm, in comparison/contrast to that of Edo period Japan.
Right: A collection of the complete works of Li Yu.
Kile said that Li Yu made himself known, by appearing in a variety of publication as commentator, author of the preface, etc. He wrote not only a lot of theatrical plays, publishing the scripts, but also wrote & published a lot of commentaries and writings about theatre. In these writings, and especially in composing his plays, Kile says, Li Yu was perpetually concerned about always staying on the cutting edge, producing something new, in order to attract audiences. I haven't read that much of contemporary (Edo period) kabuki commentaries, but hearing about this makes me much more curious. How did kabuki commentators or playwrights talk about these same issues? How flexible was the early Qing theatre? Kabuki generally adapted plays into new and different forms with each production, so even if the play itself was largely the same, it still was very much aimed at remaining fresh. … This also places Li Yu more firmly into a popular culture sort of discourse, a very separate set of concerns from those concerned with maintaining tradition, and performing something "properly" according to the proper forms. Did even Noh have the same concerns of maintaining tradition during the Edo period that it does today? I wonder. Perhaps Thomas Looser's new book "Visioning Eternity" has some answers.
Another very interesting bit that Kile introduced from Li Yu's writings was his musings on the role of lighting in the theatre. He asserts that the dim light of evening is better than daylight for helping the audience focus in on the play. Daylight, he writes, allows the audience to see everything at once, and for their attention therefore to drift all over the stage; too much light also reveals too much of the artifice of the production, whereas dim light hides the artifice and emphasizes the drama or artistry. This certainly sounds like something relevant too to Kabuki and Noh, especially in terms of cultivating the correct spiritual atmosphere and effect, yûgen or whatever it may be called, in Noh, as well as a much wider variety of effects and atmospheric moods in kabuki. I wonder what kabuki and Noh commentators of the time said about lighting.
—
The second paper in this panel was given by Prof. Paize Keulemans of Princeton University. He presented on the fall of the Ming in Dutch literature, poetry, media, and theatre, touching especially on the idea of the fall of the Ming as the first instance of "global news", and on certain prominent discourses at the time in Northern Europe regarding Self, and China.
The Ming capitol of Beijing fell to Manchu invaders in 1644. By July 1650, agents of the Dutch East India Company had conveyed the news to the Netherlands. Impressive though this may seem, given that it is, quite arguably, the first instance of worldwide news, transmitted/known in a great many places all across the globe in a relatively short amount of time, I'm frankly surprised it wasn't faster. How long did it take for the news to travel within China and to reach Canton or Fuzhou or wherever it was the Dutch were based? Given the constant back-and-forth travels and trade of Dutch and Chinese ships going to and fro between China, Japan, Indonesia (Dutch East Indies), and Europe, you'd think it'd have spread much faster. No?

Well, in any case, some of the most interesting aspects of Keulemans' presentation were the discussion of discourses relating to Dutch "Enlightenment." He highlighted mainly two manifestations of these, both dealing with conceptions of "openness." Firstly, the idea of China as "closed," as represented for example in an illustration from the 1655 Novus Atlas Sinensis ("New Chinese Atlas"), which depicts Atlas opening a gate to China, and stating in a sort of "word ribbon" (the word balloon having not yet been invented), "I open that which had been closed." The gate itself is in a large wall which might be taken to represent the Great Wall of China. By portraying China as "closed," Kaulemans argues, Europeans could see themselves as "open," by contrast, as valuing openness, and therefore as more Enlightened, in terms of the European intellectual Enlightenment movement, placing great value on the "open" free flow of information. The free flow of information is a progressive thing, a key to advancement and development of a society, while China's closedness (to Europeans, at least; whether info flowed freely within China or not is a separate matter) is seen as backwards and self-stifling.
The second side of this Enlightenment discourse of openness which I thought quite interesting was the suggestion that (some? many?) Dutch writers saw the key to advanced, Enlightenment-era power not in possessing territory, but in strength in maritime trade. The idea of the oceans as being an open, free space belonging to no one (and thus to everyone), Keulemans tells us, was a rather new idea at this time, and a major element of this discourse of Enlightened "openness." I think it should come as no surprise that the Dutch, who were a rather powerful maritime power & wealthy economy at this time and who controlled very little territory compared to Spain, Portugal, France or England, should think this way.
Joost van den Vondel, a rare Catholic Dutchman writing at the time, drawing upon similar discourses, and informed by Jesuit missionaries operating within the Chinese Court, blamed the fall of the Ming on the Emperor's isolation from knowledge of the outside world. The walls built by the Emperors, he wrote, proved insufficient to defend the realm from invaders. If only they had converted to Christianity, he asserted, China would be able to defend itself against any invasion. In true Catholic fashion, he ignores, or is incapable of seeing, that converting to Christianity would itself be succumbing to foreign influence. How much of Chinese culture and identity – from ancestor worship & local deities, to the political culture surrounding the Emperor's relationship to Heaven, to the geomantic significance of the layout of palaces and cities, to the numerous Court rituals – would be irretrievably destroyed, lost, if the country converted to Catholicism? But I guess we can't blame van den Vondel for being a product of his times.
This idea of "openness" is, of course, not so foreign to us, as it is not so different from the logics behind the Open Door Policy extended to (imposed upon) China by the Western powers in the 19th century, and the attitudes surrounding Commodore Perry's mission to "open" Japan in the 1850s. But, to see it emerging two hundred years earlier, and in a particularly Dutch flavor, is quite interesting. I'd be curious to learn more about exactly how it was articulated, and how it played out, at that time.
For the sake of length, I will leave my summary/discussion of the third paper on this panel, one by Satoko Shimazaki, until the next blog post.